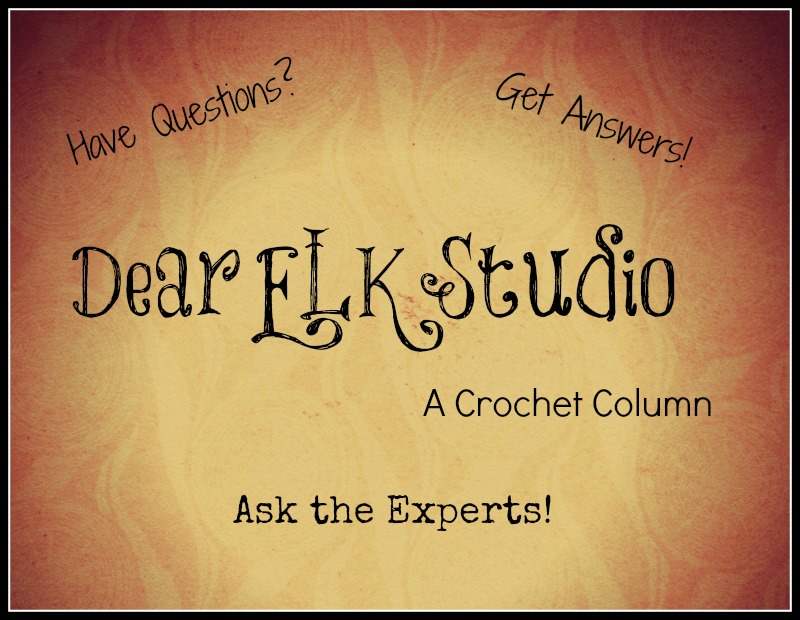 It's time for another edition of Dear ELK Studio. You asked the questions and our team of contributors have your answers. Be sure to leave your question at the bottom of the page in the area provided. If you've asked a question and don't see it today, hang on because there is always next week. Enjoy today's article!
Dear ELK Studio,
Do you have a basic pattern you use when teaching someone to read a pattern? I've taught several people the basic stitches, and I have a hard time teaching people to read a pattern.
Dear Teacher,
When teaching someone the basic stitches for crochet,  I like them to also end up with a finished project.  I begin with a scarf! The project can use the Foundation Chain, Sc, Hdc and Dc.  I do 5 rows of each stitch until the desired length. This helps with the difference between stitches, turning, starting in the correct stitch, and beginning chains and tension problems.
Here is a link to a Houndstooth scarf which uses the basic stitches of single and double crochet.  It looks complex but simple to do.  You should also teach the person the abbreviations as you go along for them to get a good understand of reading the pattern.
Dear ELK Studio,
I'm getting ready to start projects for Christmas and would like some new ideas for craft shows and festivals.
Dear Totally Prepared,
When choosing projects to sell at craft fairs and markets it's important to keep your target market in mind. Here are some links for inspiration.
Dear ELK Studio,
I've seen some cute lovey projects. Do you know of any tutorials?
Dear Lovey,
Instead of giving you just one or two, Keeping Busy has provided you with several different lovey projects!  Thanks Anabelle!
Dear ELK Studio,
I want to make a hat with stripes but hate the way my join looks, can you help me?
Dear Stripey,
Sometimes knowing the technique to use when changing colors can be confusing.  KT and the Squid and Cre8tion Crochet offer a different technique that may help you on the next project.  Good luck!
Dear ELK Studio,
What is the best stitch to use for a washcloth project?
Dear Best Stitch,
The best stitches to use for a washcloth would be any stitch that gives the project texture.  You can combine a single crochet followed by a double crochet and continue in that sequence to give great texture, or here is a pattern by Petals to Picots, as she has a beautiful washcloth pattern.
Do you have a crochet question?  We'd love to hear it.  Leave your comments in the space provided below.